Puffed rice cereal is a food rich in carbohydrates, proteins and that contains little fat
The puffed rice cereal can be from a supplement for breakfast to a snack. Perhaps here it is not as popular as in other Asian countries, but it is undoubtedly a food that healthily kills the appetite and that we can find in the form of bars or toasts, but you can also find loose grain and even we can prepare at home in a simple way.
The result will be a snack rich in carbohydrates and proteins that contain little fat. If you opt for brown rice, it will be richer in fiber and minerals, and you can also add spices or even honey to spice it up and give it more flavor.
Also Read : Chicken Leg Calories, Vitamins And Its Nutritional Facts By The Experts
What is the Origin of Puffed Rice?
The puffed rice reaches its highest popularity levels in the Indian subcontinent, where it is used as an appetizer, breakfast cereal, or even as street food. It is a staple ingredient in 'bhel puri,' a popular Indian snack biscuit. Traditional puffed rice is called 'muri' in India, and it can be said that it is to rice what popcorn is to corn. Its use has been documented in Asian countries since the 15th century.
Puffed rice has been widely used in our environment for a long time
Has extends use of puffed rice was also extend to our environment, and the method for preparing it does not differ much from the one used in India. You have to have a little patience because it takes time to prepare, but it is a simple recipe that does not require much kitchen skill.
How to Make Puffed Rice at Home
It is possible to make puffed rice at home and surprise our guests.
First of all, boil the rice and let it dry, once it is ready.
Next, we will need the oven. On a particular paper, we will place the well-spread rice on the tray. It is important to spread it well on the tray and preheat the oven to about 65 degrees Celsius.
In the heat of the oven, we will be able to dehydrate the grain completely. Ten minutes will be enough.
After removing the rice from the tray, you have to fry it.
Once fried, we place it on absorbent paper to absorb the excess oil.
We will have the rice ready for consumption, and if we wish, we can add some spice or seasoning to give it some flavor.
In this simple way, we can make a homemade snack, which becomes one of the healthiest options to kill the appetite after hours. We can note that it hardly has a fat component, unlike most of the snacks we can find on the market.
Besides, it admits combinations of all kinds and can be presented in pancakes, lollipops, crunchy balls. It is enough to shape it during the preparation process to present this snack in a fun way.
What are the Benefits of Brown Puff Rice?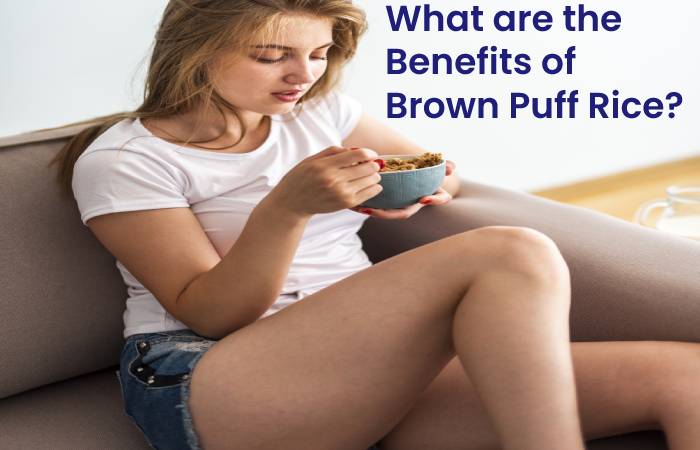 Brown rice food products are nutritious and tasty; They offer more health benefits than white rice products. When processed as a puffed cereal, brown rice retains most of its nutritional properties. Provides vital vitamins and minerals without contributing excess fat, sodium, or cholesterol. Brown rice products have delicious dietary fiber and good breakfast cereals.
High fiber content
Brown rice is the core of the rice plant; Only the outermost layer remove during processing, thus retaining its full nutritional benefits. This contrasts with the white rice treatment, which strips off virtually all dietary fiber and many nutrients. Whole grain dietary fiber offers many health benefits.
It reduces the risk of heart disease, helps stabilize blood sugar levels and lower cholesterol, and helps regulate digestive processes. Fiber-rich foods also help you feel full longer after eating, which can help you avoid overeating.
Puffed Rice Cereal Nutrients
Besides being a good source of dietary fiber, brown rice has very little fat, no sodium or cholesterol, and relatively few calories. A 3.5-ounce serving contains a third or more of the recommended daily allowance of essential B vitamins, as well as significant amounts of zinc, magnesium, and phosphorus. It is an excellent source of the mineral manganese, which  involves in carbohydrate and protein metabolism and essential for a healthy nervous system.
Brown puffed rice cereal
Brown rice puffs are brown rice grain with air blown in at high pressure. Most of the original nutritional properties of foods remain intact after the inflation process, with only slight decreases in nutritional values noted. Brown rice puffs are a filling, healthy, gluten-free cereal option. A cup of brown puffed rice served with skim milk provides just 100 calories, contains virtually no fat, and counts 15 percent of the adult recommended daily allowance for calcium. Check the package and its indigents conform to no added sugar or sodium.
Part of a healthy breakfast
Brown rice puffs are an excellent centerpiece of a healthy breakfast. Serve the cereal with a little milk and fruit to start the day well balanced and nutritionally rich in vitamins. Brown rice foods offer a prolonged feeling of fullness and help keep blood sugar levels stable. Also, contributing to a general feeling of well-being that can help prevent fatigue. Hence, early hunger pangs, or loss of concentration during the morning.