Whether you are vegan or not, having some of these fantastic and nutritious plant based food staples in your kitchen is a must. They are all diverse, healthy and delicious. Not only this, but most of them are very affordable, helping to debunk the myth that a vegan diet is expensive. In your next food shop, pick up a few of these items and you will never struggle to find something delicious to have to eat!
Tofu Best Plant Based Food
The first staple that I always have in my kitchen is tofu. Tofu is made of soy and comes in many different forms, including silken, firm or extra firm. Silken is amazing to make desserts as it is very creamy when whipped with other products. Firm tofu still holds its shape but is still fairly delicate, making it perfect for a tofu scramble or a stir fry. Finally, extra firm tofu is ideal for cutting into strips or cubes and frying, grilling or baking and holds its shape really well.
We like to cover my tofu with a cloth and press it under heavy books for an hour to remove any excess moisture, then chop it into cubes and marinate in smoked paprika, garlic granules, soy sauce, chili powder, salt and pepper. We leave this for around an hour to marinade before coating in corn flour and baking in the oven for 25 minutes. The outside is crispy and the center is soft, making it one of my favorite kitchen staples!
Bear in mind that the harder the tofu is, the more difficult it is to infuse flavor, so the margination time will be longer. Tofu is high in protein, with about 18g per half a block, making it a great base for any meal. It also contains significant amounts of calcium and iron, so you know you are accessing a few of the essential nutrients you need.
Lentils Notorious Plant Based Food
Lentils, or any kind of pulse, are high protein, cheap and delicious! They barely take any time to cook, so having them in the cupboard is essential for me. They're low in fat and have around 13g of protein in 150g, so they are ideal as a meat substitute. You can get an amazing variety of different color lentils to experiment with in different dishes.
We use them most in things like dhal, Bolognese or chili, along with lots of delicious beans and veggies, for a nutritious and filling meal that pleases all the family. Something else that's really popular in my house is vegetable soup with lentils. We sometimes don't feel full after a bowl of soup, so adding the lentils makes a real difference.
Chickpeas Protean Plant Based Food
Something else we will always have in the house is chickpeas. You can buy them dried and then rehydrate them yourself which usually takes a while, or you can buy tinned chickpeas which are ready to use. I usually have both in case I need to use them quickly! You will access around 19g of protein in 100g of chickpeas, making it another really good option as a base for any meal.
We use chickpeas for hummus, curries, chili's, salad and even desserts! The water that chickpeas come in when tinned, or the water left after soaking them, is called Aquafina which when whipped, replicates the texture of egg whites. It is ideal for making mousses or meringues and means nothing is going to waste. One of the easiest meals we make with chickpeas is spinach and chickpea curry. It is healthy, quick and delicious, making it perfect for mid-week meals.
Oats Healthy Plant Based Food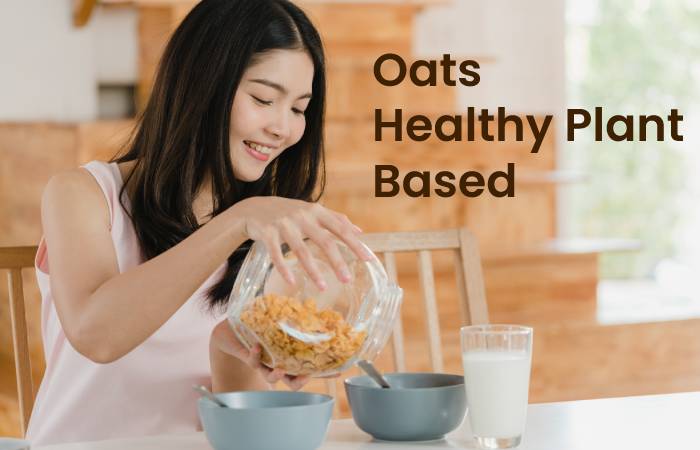 Another essential in my kitchen are oats, more specifically rolled oats. Any kinds of oats are a healthy carbohydrate which is extremely diverse. They can be blended to make oat flour for baking, mixed with banana and plant milk for delicious pancakes or baked in the oven with berries and plant milk for warming winter baked oatmeal. The best thing about oats is how affordable they are. They are accessible for anyone, making them an essential.
At this point we will usually also have a vitamin D3 supplement as we know this is an area of weakness in my diet! This breakfast keeps me full for hours and gives me the best energy boost to start the day.
Tinned Tomatoes
Something I never leave the supermarket without is tinned tomatoes. I use them at least a few times a week and they are considered as one of your five a day, so I know I'm looking after my family whenever I use them.
We use them to make homemade pasta sauce, curries, aborigine ptarmigan, soup, risotto and the list could go on and on. You can get them for as little as 25p in the UK, so are an ideal store cupboard staple.
Nuts
We saved one of the best until last here, as nuts are such an amazing ingredient to have! I always make sure We have pistachios, walnuts, pine nuts, macadamias and cashews in the cupboard as I have a slight obsession, although you should just keep handy the ones you use most often or love to snack on! Although nuts aren't the cheapest staple, they are a great source of healthy fats and protein that can transform any dish.
We love to top a vegan pasta dish with a lemon and sage sauce and crushed walnuts. It takes it to another level! Another lovely dish is to heat up raspberries with some sweetener to make compote, place vegan yoghurt in a loaf tin and swirl your compote in. Then, top with crushed pistachios and freeze for 4 hours. Take the dish out of the freezer 15 minutes before eating and enjoy a lovely semi Fred!
Final Thoughts
These staples are so diverse, healthy and delicious, so we always make sure to have them handy in the kitchen. Although there are plenty of others we could discuss, these are the items we use most often and that are most accessible. Hence, your best to cut down on your meat and dairy consumption by investing in a few of these staples next time you do your food shop.