Although some people don't mind their nipples showing through clothing, many people prefer to keep them hidden. If you want to keep this part of your body private, making sure to hiding nipples will allow you to feel more comfortable with your clothes and your body Accessories.
The nipples of greater or smaller size, like or less pointed, but we all have them! Whether you like to brag about them or not, in many countries and cultures, it is considered taboo to do so.
Fortunately, there are many ways to cover the nipples and make them more discreet through clothing and accessories. Find out how to prevent your nipples from showing through your clothing.
Method ONE Hiding Nipples: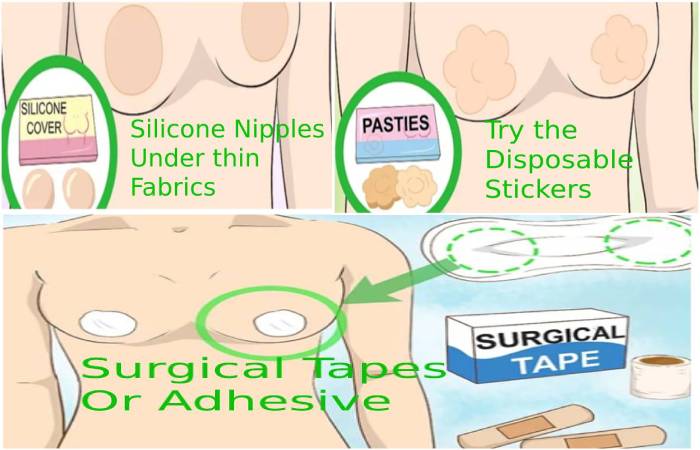 Use Reusable Silicone Nipples under thin Fabrics
 These small sticky circles or flower-shaped covers are created to cover just the nipples, making them an excellent choice for short tops and thin or sheer fabrics that can make the nipples visible. Place the adhesive side on the nipple and press it gently. Find a color close to your skin tone so that it is less noticeable.
You can buy the adhesive nipple covers online or at stores that sell bras and related accessories.
After use, wash the covers with mild soap and water and store them in their original packaging for reuse. The adhesive will wear out over time, but many are guaranties for 30 to 50 uses.
Try the disposable stickers, if you want a cheap, single-use option
Try silicone nipple covers and stickers to find out the best option to hide your nipples. Like silicone nipple covers, the stickers are placed directly on the nipple and remain there using a sticky adhesive. They are cheaper and come in packs of 4 to 6 as they are made for one-time use only. Some people prefer stickers because they are less noticeable under tight tees than silicone nipple covers, which are thicker and can protrude under the tight fabric. On the other hand, stickers may not be as efficient at hiding nipples when they harden.
Cut a Sanitary Pad if you want a Cheap Homemade Cover
Cut the towel in half, and then cut two circles large enough to cover your nipples, leaving the paper covering the adhesive in place. Stick them on the nipples and discard them when you finish using them.
Like the stickers, this method will not hide the hard nipples under a tight shirt, and please try them at home before wearing them.
You can also use adhesive bandages or surgical tape.
Method TWO Hiding Nipples: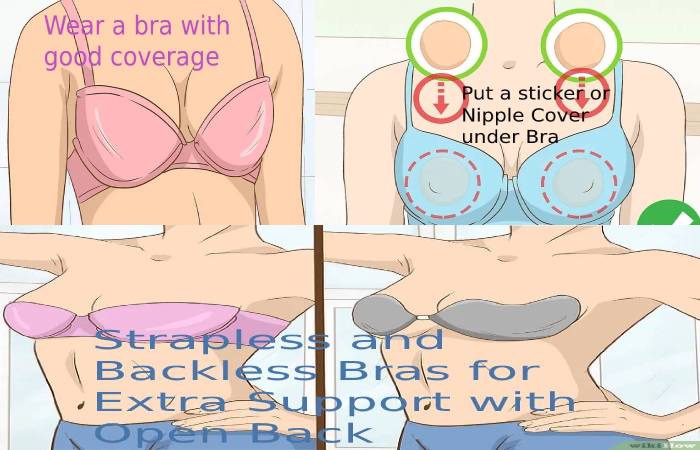 Wear a bra with Good Coverage
Padded bras will provide extra coverage on the nipples. Wear a molded bra to cover your nipples with the tops you wear on a daily basis. To make sure your nipples don't show through the material of a regular shirt, look for bras with thick cloth cups, usually called molded or preformed bras. They won't have much padding, but the fabric will be solid enough to prevent nipples from being visible.
Wear Strapless and Backless bras for extra Support with Open Back Tops
These types of bras have two cups that adhere to the chest with adhesive, instead of being fastened around the back and shoulders. They often have a clasp in the middle, like the bras that buckle in front, which allows the cups to be put together for additional enhancement. You can purchase these types of bras online or at some lingerie stores.
To put on a strapless and backless bra, lean forward and glue the cups to the outside of each chest and then button them together to create some cleavage.
Wash the bra adhesive with soap and water after use. Can reuse it If we store it again in repacking after drying.
Put a Sticker or Nipple cover under a thin bra to give them Extra Coverage.
 If you prefer to wear bras made of lace or made of fine fabric, put on stickers before putting it on. So you can enjoy the way these bras look and feel, without worrying about the nipple's notice through them.
Method THREE Hiding Nipples: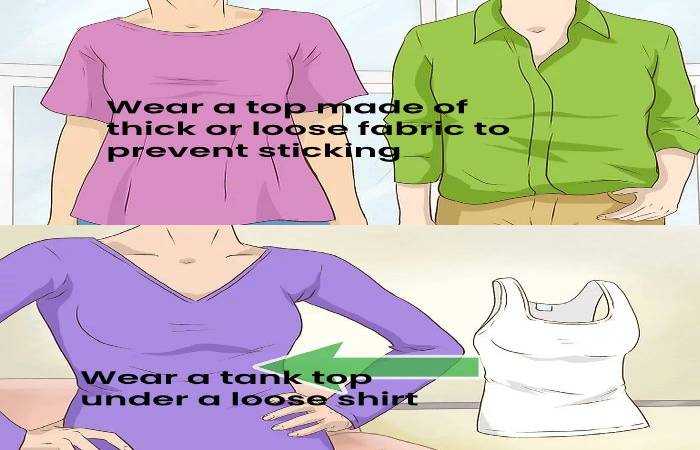 Wear the clothes in your favor
Wear a top made of thick or loose fabric to prevent sticking. Slim, tight tops make your nipples more noticeable. Wear a loose t-shirt or ceiling, of thick material will hide them without the need for extra accessories.
You can also look for a top or dress with a double layer, such as those that have a support or a lace layer over the chest area.
Choose a Dark or Patterned t-shirt to Divert Attention from your Nipples.
 Avoid Light colors like white and pale colors will make nipples more noticeable than dark colors like black, purple, and dark blue. Small prints and flowers can also work as camouflage for the nipples.
Avoid tops that direct attention to nipples with arrows or other structured elements.
Wear a tank top under a Loose Shirt
If the shirt is loose and flowing but thin enough to show your nipples, try wearing a camisole or undershirt. Find a color that blends in with your shirt or skin tone. You can also choose a color that complements your top and pull it out a bit at the bottom to create a layer of color in the outfit.
Method of with tighter shirts, but the lines below are likely to show.
Tips Hiding Nipples
Peel off the stickers and adhesive cups slowly. They shouldn't hurt, but it can feel a little weird the first few times you remove them.
To give your chest a little lift without wearing a bra, place a strip of tape next to your case and over your shoulder, like a bra strap. When you finish using it, peel it off slowly and carefully.